AgeLoc ySpan
Regular price $225.00 Sale
Introducing AgeLoc Y-Span, NuSkin's most advanced anti-ageing supplement. Y-Span works at a genetic level to repair our cells, slow down the ageing process and the effects it has. Formulated to promote your youth span. The years you can enjoy life being more active, energetic, and healthy.

Degenerative diseases begin with inflammation - Prevention is key!
What makes this product unique?
Our most advanced anti-ageing supplement ever, AgeLoc® Y-Span® targets our innate ability to resist ageing at its source.
Contains a unique blend of nutrients that is not readily available from even a healthy diet.
Built on more than three decades of scientific knowledge.
Created with our scientific understanding of the expression of key groups of genes related to the ageing process, as well
Influences multiple ageing defence mechanisms to provide broad-spectrum nutritional benefits.
It is SCS certified. Measure the antioxidant difference AgeLoc® Y-Span® is making in your body.
Benefits
Cellular Health: Helps support cellular protection and repair the body's repair mechanisms at the cellular level. Supporting a healthy response. 
Brain Health: Improves and preserves cognition and memory in older people.
Heart Health: Helps support overall cardiovascular health.
Metabolic Health: Supports healthy lipid metabolism.
Skin Health: May help protect skin from ageing.
Bone Health: Supports bone health and bone structure and integrity.
Eye Health: Lutein is important for healthy eye composition and protection. Promotes eye health and supports healthy vision.
Physical Performance: Supports physical performance especially in post-menopausal women and the elderly.
Immune Health: Supports healthy immune function and response. 
Size: 120 capsules per bottle
Usage
Take two capsules twice daily with morning and evening meals.
Ingredients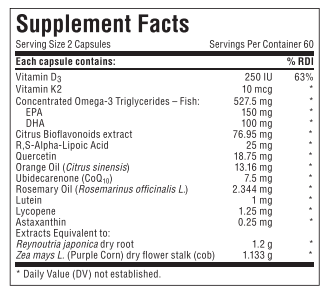 Other Ingredients: Capsule (Gelatin, Water), Silicon Dioxide, Sunflower Oil, Maltodextrin, Starch - Maize Tocopherols, Glucose Syrup, Sodium Ascorbate, Dl-Alpha Tocopherol, MCT Oil Alpha Tocopherol.
WARNINGS - Keep out of reach of children. Pregnant or lactating women and people with known medical conditions should consult with a physician prior to use. Discontinue use and consult a physician if any adverse reactions occur. Vitamins should not replace a balanced diet. Do not take while on warfarin therapy without medical advice.